piq kiʔláwnaʔ (pronounced "pik-ki-lau-na") is situated in the Central Selkirk Mountains in southeastern British Columbia. It encompasses a corridor that runs perpendicular to Highway 31A between New Denver and Kaslo – a key connection joining Goat Range Provincial Park in the north to Kokanee Glacier Provincial Park to the South. It is an area rich in wildlife and diverse ecosystems, and an essential corridor for grizzly bears and wolverines. It is also a human connectivity corridor that is well loved by a range of local people and visitors, and widely appreciated by all.
piq kiʔláwnaʔ is the Sinixt word for "white grizzly". However, very few of this unusual colour-phase of the grizzly are really "white." Unlike the coastal spirit bears (Mosgm'ol) whose coats are different shades of white (often with orange or yellow on the back), piq kiʔláwnaʔ's comes in many different white-or light-phase colour patterns. Other recognized grizzly bear colour pattern names such as the interior "Silvertip" grizzly or the coastal grizzly equivalent called in Alaska the "brown bear" also have colour varieties reflecting their names.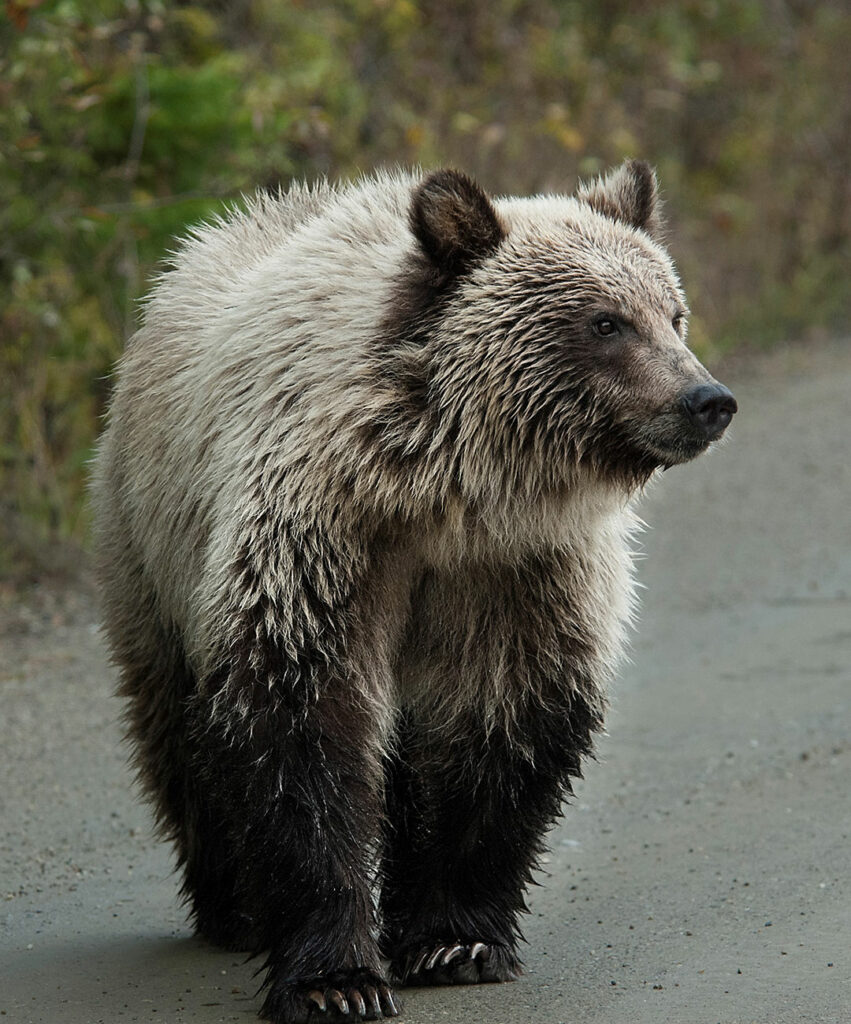 The "white grizzly" can be cream colour or cream with a mixture of silver and dark colours. The light colour occurs in different mixtures, but the dark legs are classic as is the Siamese-cat type head colour. There are lots of variations and all of them are striking, even at a distance. One local bear biologist has observed only one that was pure white, although he has heard stories of hikers having seen white grizzlies. In their travels in the lower Columbia in the early 1800s Lewis and Clark refer to "white" grizzly bears. In his 1909 book The Grizzly Bear, Spokane-based author W. Wright describes a bear in the Wilson Creek drainage of the Selkirks as, "an old grizzly as white as a goat," that they called, "White Jim".
It is estimated that one in ten of the local grizzlies have this colour variation. One hiker recently saw a brown mama grizzly with two Siamese-cat coloured cubs grazing in the avalanche chutes of Whitewater Creek within the boundaries of the proposed Zincton Village Resort tenure.